1. Calm
Best For | Meditation & anxiety
Features | Guided & open-ended meditations, sleep stories, Daily Calm, mindfulness programs & masterclasses
Previously named the #1 App of the Year by Apple, Calm is a game changer for those in need of peace. It's one of the top ranking apps in the Health and Fitness category, for good reason. Millions of people swear by Calm for their breathing programs, stretching exercises, and even sleep stories (voiced by the likes of Matthew McConaughey and Bob Ross). Whether you're a beginner and want to try a weeklong trial or you're ready to commit to the 21-day meditation program, Calm will help keep you grounded and reflective on the daily.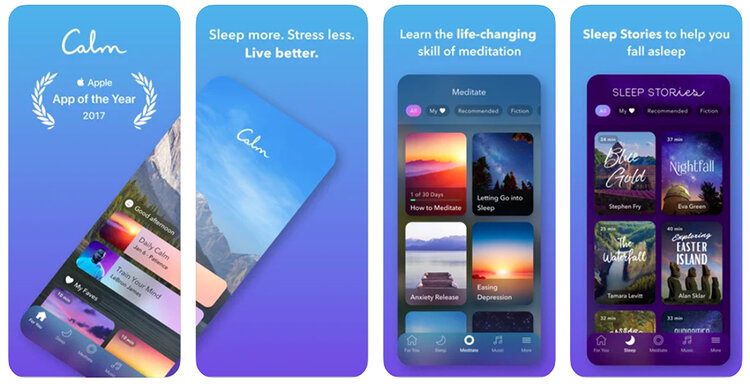 2. Headspace
Best For | Meditation & anxiety
Features | Free basics course, guided & short meditations, sleep time sounds, focus & bedtime practices, Headspace at Work options
If you're new to meditation, check out Headspace—the app is the best 101 we've found, and we love the 10-day basics course. Created in tandem with scientific research and meditation history, Headspace takes a clinical approach to the many benefits of mindfulness. With hundreds of meditation options starting at three minutes and resourceful blog posts on sleep, stress, and mindfulness, you can gently hone your skills with clarity and reduce anxiety levels in a few days.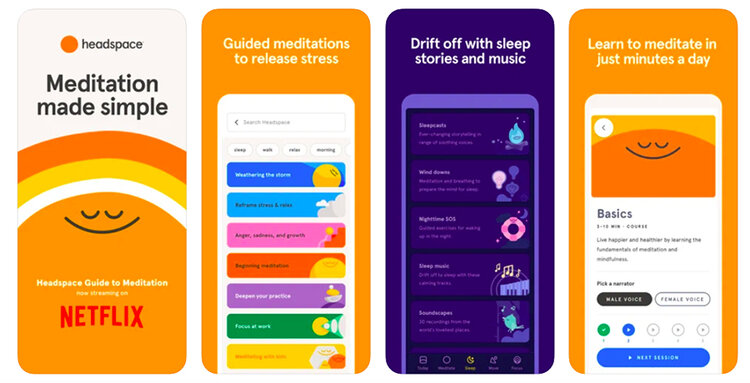 3. Liberate
Best For | Black community-centered meditation
Features | Black experience-focused meditations, 40+ BIPOC teachers, 5–25 minute meditations, offline listening available
Liberate is both a meditation app and safe space designed by, and for, the Black community. There are over 260+ meditations available between five and 25 minutes, covering topics like microaggressions, internalized racism, ancestral healing, and forgiveness. Committed to accessibility, Liberate offers reduced-cost subscriptions for individuals, nonprofits, and first responders. Led by more than 40+ BIPOC teachers and a diverse team, Liberate aims to "help the Black community collectively heal and be free."
4. MyLife™
Best For | Breathing & meditation for adults & children
Features | Customized surveys for guided meditations, integrates with Alexa, 400+ activities, free for educators & counselors
MyLife™ understands the power of mindfulness, especially when it comes to how you're actually feeling. With glowing reviews from the Wall Street Journal and Fast Company, MyLife™ helps you tune in to your emotions and check in with your innermost thoughts with customized surveys and personalized activities. MyLife™'s sibling app, Stop, Breathe, & Think also offers tailored experiences for teens and kids as young as five years old so that anyone in your household (or classroom!) can benefit from the power of calm and quiet.
5. Simply Being
Best For | Affordable meditation
Features | Five meditation time-lengths up to 30 minutes, additional music/nature sounds
Launched by the Maddux duo (they have more than 40 years of meditation training and are most known for their popular Meditative Oasis podcast and apps), Simply Being offers you peace during the most stressful moments of the day. With five time-lengths and an intuitive user experience, you'll find yourself immersed in soothing music and gentle instructions. For just $1.99, you can unlock everything within the app, including optional nature sounds and 30-minute voice-guided meditation.