Here are 5 apps to help calm your anxiety.
1. iBreathe
Best For | Breathing & anxiety
Features | Pre-defined presets, customizable reminders, can send breathing exercises to others
If ease-of-use is the name of the game, then iBreathe is right up your alley. This uber-simple, beautifully designed app reduces clutter to ensure a mindful and centered experience. Whether you're battling anxiety or insomnia, iBreathe offers deep breathing exercises for relief. Best of all, the app pushes reminders to your phone, so you can take some time out of your busy day to be fully present. Plus, you can send breathing exercises to friends and go through them together for shared moments of zen.
2. Breathe+ Simple Breath Trainer
Best For | Breathing visualizations
Features | Custom inhale/exhale time-lengths, guided sessions up to 60 minutes, reminders
Therapists and guides alike will recommend breath visualization for meditation or daily relaxation. Breathe+ Simple Breath Trainer is a stunning visualization tool where you can literally see your inhales and exhales (timed to your preference). And if you want to close your eyes, you can set up a vibrate function to let you know when it's time to switch between the two. With guided session lengths up to one hour (or freeform if that's more your thing), you'll feel ultra-relaxed in both mind and body.
3. Breethe
Best For | Pre-sleep mindfulness
Features | Playlists, readings & stories, guided meditations & masterclasses, 12-week daily program, options for kids & teens, reminders, syncs across multiple devices
If you're dealing with sleep issues, we highly recommend giving Breethe a try, given the app's expertise with hypnotherapy and bedtime stories. Breethe is your own personal mindfulness coach, and you can see results in just five minutes flat. With over 1,500 stories and guided meditations, you can combat anxiety, sleep more soundly, or reduce stress using the curated sounds and bedtime visualizations, among other features. When you wake from your restful slumber, you can also start your day with gentle alarm clock and morning meditations.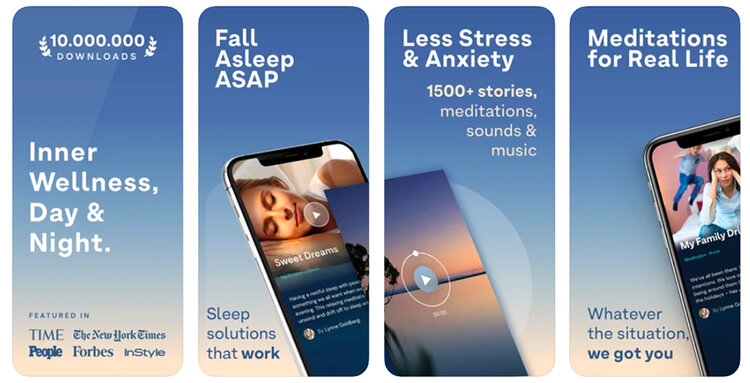 4. Simple Habit
Best For | On-the-go sessions with experts
Features | Five-minute meditations, over 500 free sessions & motivational talks, led by experts, integrates with Apple Health
For even the busiest person, meditation can become a daily practice thanks to Simple Habit (first seen on "Shark Tank"). Made for people on-the-go, this app will have you feeling calmer and breathing more easily within five minutes, all that's needed to improve your mind-space. You'll be guided through each meditation by experts at Google or former monks, which can be accessed both on- and offline—ideal for those with flying anxiety.
5. Breathe In
Best For | Calm & focus
Features | Simple exercises, visualizations, reminders, 5-minute guided meditations
Often times, the key to a rest and relaxation is breathing consciously. Breathe In: Calm Exercises & Guided Meditation app helps you focus on breaths and ignore distractions in a couple of minutes. Set up cycles of inhales and exhales and let the app do all the work; you can also set reminders for when you'd like to take that time again or opt for a guided meditation. Easy, ethereal, and engaging, this app is sure to give you the relief and focus you've been hoping for.